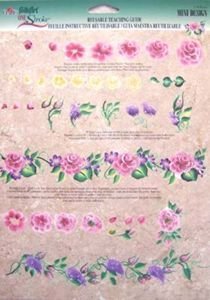 One Stroke Donna Dewberry Learn to Paint with these reusable teaching guides. Just choose the sheet that you want to learn, slide the sheet into the clear plastic sleeve and paint on the sleeve, wipe off and try again.

Reusable Guide Sheet is approx. 12" x 8.5", & is BI-LINGUAL: English & French!
Practice painting on the Guide Sheet, then Wipe Off with damp cloth & Repeat!
Helps Teach YOU how to Paint!