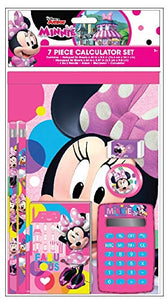 TAKE MINNIE MOUSE TO SCHOOL - Let your child start the new school year with their favorite character at their side! Send themed school supplies and keep anxiety at bay.
INCLUDES ALL THE TOOLS YOU NEED - This fun school supplies set includesa notepad (36 sheets, 6.45 x 9.5 inches, blank pages) and memo pad (36 sheets, 2.5 x 3.8 inches), 2 No. 2 pencils, an eraser, a pencil sharpener, and a calculator.
BACK TO SCHOOL FUN - It's great for backpacks and desks for learning at home or kindergarten or elementary school.
INCLUDES A KIDS' CALCULATOR + PENCILS - The kid sized calculator has easy to press buttons and just the basic functions kids need. The set includes everything kids need for writing and math, all in one package!
GET YOUR CHILD EXCITED FOR SCHOOL! Capture the smile as your child opens this bright Minnie Mouse school supplies set and get ready for the countdown to the first day of school!