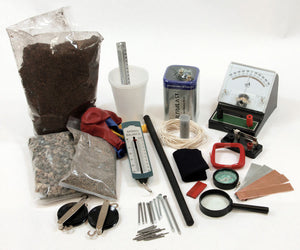 This kit for Switched-on-Schoolhouse Science Grade 3 includes a magnifying glass, seeds, a spring scale, and other materials for doing the hands-on activities. Also for use with Monarch Science 3. You save 10%!

Note: This kit is intended for parent/teacher use to complete curriculum lab activities with students. It includes items that are not designed or intended primarily for children ages 12 and under.

This kit includes the following items (download the kit order form (https://www.homesciencetools.com/content/reference/SFSOS04.pdf) to order individual or optional items):

* Balloon set
* Bar magnet, 1" ceramic, 2/pk
* Battery, 6 volt, alkaline
* Compass, 1-1/2" diameter
* Copper metal electrode, 4"
* Cup, clear plastic, 9 oz, 3/pk
* Friction pad, wool, 6x6"
* Friction rod, rubber, 3/8"x10"
* Galvanometer, -500 to 500 uA
* Iron metal filings, 45 g
* Magnifying glass, 2" diameter
* Nail assortment, 30 pieces
* Peat moss, 60 cubic inches
* Pebbles, fine gravel, 1 lb.
* Pulley, single, 48 mm
* Sand, coarse, 1 lb.
* Spring scale, 500 g/5 Newton
* String, 25 ft
* Switch, knife type, SPST
* Thermometer, aluminum back
* Wire, insulated copper, #24
* Zinc metal electrode, 4"

While our kits conveniently contain most of the items you'll need to complete the labs, they do not include some common household items or more expensive items like microscopes and live cultures. Please see the kit order form for items you might wish to order separately.