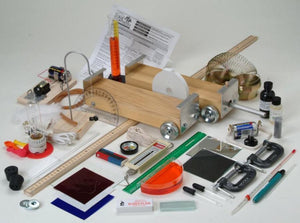 This kit for Switched-on Schoolhouse Science 12 (Physics) will save you time gathering up lab materials. Avoid hassle and make science come alive with hands-on experiments! Also for use with Monarch Science 12. You save 10%!

A balance is required for this course; we recommend a digital balance.

A meterstick is included with your order but will be shipped separately via US Priority Mail, regardless of how the rest of your order is shipped. There are no exceptions to this shipping arrangement.

This kit includes the following items:

* Ball, steel, 1/2dia., pair
* Bar magnet, 3 Alnico I, 2/pk
* Battery holder, for D cell
* Battery, D-size, heavy duty, 2/pack
* Bulb holder
* Bulb, screw base, 1.5-volt
* C-clamp, 2
* Compass, magnetic, 1-1/2 diameter
* Dynamic carts, set of 2
* Friction pad, silk, 6x6
* Glass plate, 5" x 5"
* Iron metal filings, 30 g
* Light, small beam penlight
* Meterstick, 100 cm, hardwood
* Mirror, glass, flat, 4x 4
* Optical Slit Kit
* Protractor, 6 semi-circle
* Refraction box, semi-circle
* Rubber stopper, #6.5, 2-hole
* Ruler, 30 cm
* Slides, plain glass, 12/pk
* Slinky, metal, extra large
* Spring scale, 500 g/5 Newton
* Static Electricity Study Kit
* String, heavy cord, 25 ft
* Thermometer, Celsius, 12"
* Tube, 5 mm glass, 6" long
* Tubing, 4.8 mm rubber, 2' long
* Washers, 1 diameter, 5/pack
* Wire, insulated copper, #24, 15 ft.

While our kits conveniently contain most of the items you'll need to complete the labs, they do not include some common household items or more expensive items like microscopes and live cultures. Please see the kit order form for items you might wish to order separately.

This bulky item only ships Economy or Ground Service to a street address in the 50 US states.