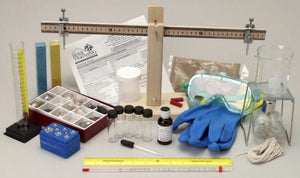 This kit for Science Lifepac Grade 9 includes the harder-to-locate items you'll need to do the lab activities. Save time searching for materials by getting them all in one convenient box! You save 10%!

This kit includes the following items:

* Alcohol lamp stand
* Alcohol lamp, wickless (buy ethyl alcohol fuel separately)
* Bar magnet, 1" ceramic, 2/pk
* Beaker, glass, 250 ml
* Clay, modeling, 1/4 lb.
* Demo Balance base and clamps
* Graduated cylinder, plastic, 100ml
* Jar, 4 oz, plastic, with lid
* Lab apron, economy
* Mass set, starter
* Meterstick, 50 cm, hardwood
* Paper clips, small, 100/box
* Pipet (medicine dropper)
* Rock study kit
* Ruler, 30 cm
* Safety gloves, size 8-8.5 med.
* Safety goggles, full-size
* Sand, coarse, 1 lb.
* String, 25 ft
* Sulfuric acid, 30 ml "
* Thermometer, Celsius, 12"
* Vial, clear glass, 15 ml

While our kits conveniently contain most of the items you'll need to complete the labs, they do not include some common household items or more expensive items like microscopes and live cultures. Please see the kit order form for items you might wish to order separately.

Shipping Restriction: This item only ships Economy or UPS to a street address in the 50 US states.

WARNING: HAZARDOUS CHEMICAL - This kit contains hazardous chemicals. Not for children under the age of 15. For use under adult supervision. Read warning labels carefully.