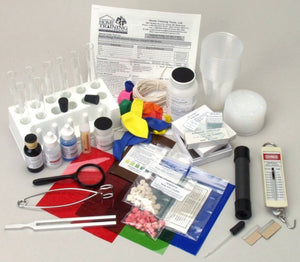 Save time gathering the materials for the labs in Science Lifepac Grade 6 when you order this kit! It contains microscope slides, test tubes, and more to help you make science come alive with hands-on activities.

A microscope is needed to complete some activities - we recommend the Home Microscope.

Note: This kit is intended for parent/teacher use to complete curriculum lab activities with students. It includes items that are not designed or intended primarily for children ages 12 and under.

This kit includes the following items:

* Balloon set
* Benedict's solution, 30 ml
* Calcium hydroxide, 30 g, lime
* Cellophane, 3 pack
* Cups & lids, 8 oz plastic, 3pk
* Ficus (dicot) leaf microscope slide
* Glucose test strips, 10 pack
* Iodine solution (Lugol's) 30ml
* Magnifying glass, 2" diameter
* P.T.C. test paper, 100/vial
* Phenolphthalein solution, 15ml
* Pipet (medicine dropper)
* Razor blade, single edge, 1/pack
* Rennet, enzyme, tablets
* Rubber stopper, #0, solid
* Seeds, corn, 15 g pack
* Seeds, lima bean, 15 g pack
* Semi-permeable membrane, 12"
* Basic microscope slide set: 12 plain slides, 2 concave slides, coverslips, and storage box
* Spectroscope
* Spring scale, 500 g/5 Newton
* String, 25 ft
* Test tube clamp
* Test tube rack, 20 mm, 40 holes
* Test tubes, large, 16 x 150 mm
* Tuning fork, C, 256 cps

While our kits conveniently contain most of the items you'll need to complete the labs, they do not include some common household items or more expensive items like microscopes and live cultures. Please see the kit order form for items you might wish to order separately.

Shipping Restriction: This item only ships Economy or UPS to a street address in the 50 US states.



WARNING: HAZARDOUS CHEMICAL - This kit contains hazardous chemicals. Not for children under the age of 15. For use under adult supervision. Read warning labels carefully.