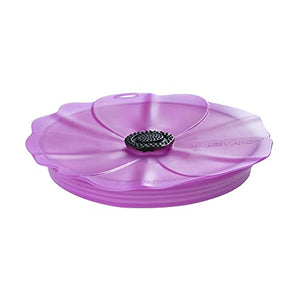 Charles Viancin - Poppy Pop Silicone Lid for Food Storage - 8''/20cm - Airtight Seal on Any Smooth Rim Surface - BPA-Free - Freezer, Refrigerator and Dishwasher Safe - Purple Orchid
FOOD-GRADE SILICONE LID: Inspired by our favorite flower, this beautiful poppy designed silicone lid for food creates an airtight seal on any smooth-rimmed surface. Plastic-free, made from BPA-free, food-grade silicone, this reusable lid works on a wide variety of sizes, shapes and materials, including stainless steel, glass, plastic, ceramic and wood. 11" lid designed for containers up to 10.5" in diameter.
PERFECT FOR STORING: This range of stretchable and hermetic lids will protect your food and prevent splatters and spills while taking it everywhere with you. Perfect for storage, picnics, camping... Refrigerator and freezer safe, keeping food fresh and masking unpleasant odors. Not intended for use in a microwave or an oven.
SUSTAINABLE AND HYGIENIC: Reduce the use of single-use, disposable plastic wrap and aluminum foil with this hygienic and plastic-free alternative. Easy to clean, Charles Viancin lids are dishwasher safe or can be washed by hand. Do not carry containers by the lid handle. Lid and bowl must be dry and clean to function properly.
AVAILABLE IN DIFFERENT SIZES: This practical stretchy Poppy Pop lid is available in 4 different sizes: 11''/28cm, 9''/23cm, 8''/20cm and 6''/15cm. Also find our stretchy Poppy Pop 4" Drink Cover. Charles Viancin kitchen accessories make the perfect birthday, shower, or holiday gifts for friends and family!
FUN AND FUNCTIONAL: Inspired by the beauty of nature, the Charles Viancin brand provides attractive, clever kitchen accessories perfect for indoor and outdoor dining and entertaining. Designed in France and loved worldwide, enjoy everyday use among our line of plastic-free kitchen essentials.